MENASHA, WI -- Faith Technologies Incorporated (FTI), engineering, construction, manufacturing and clean energy provider, completed its annual 'Acts of Kindness' holiday giving campaign, totaling $12,000 in donations to five charitable organizations.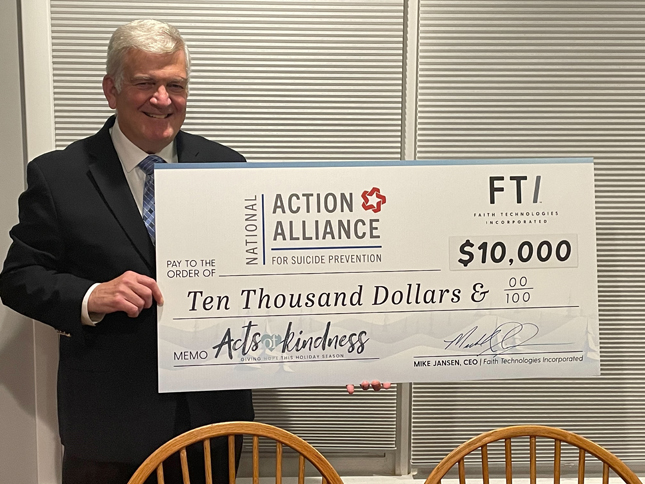 Robert F. McCauley, Deputy Director, Secretariat for the National Action Alliance for Suicide Prevention, Education Development Center
The organization is also supporting victims of recent tornadoes through a donation to the American Red Cross in Kentucky.

Charitable partners for this year's holiday campaign were chosen based on alignment with FTI's Culture of Care initiative of a positive and stigma-free workplace. Over the course of the three-week campaign, FTI employees, customers and social media followers learned about the charities and were encouraged to vote for the organization they wanted FTI to make a $10,000 donation to.

The organization receiving the top donation was National Action Alliance for Suicide Prevention, a national public-private partnership for suicide prevention. The remaining charities, Convoy of Hope, Hope For The Warriors, NAMI and the National Federation of Families, each received $500 donations.

"FTI is thankful to conduct our annual Holiday Giving campaign, and this year we felt it was extremely important to emphasize organizations that support mental health," said Michael Jansen, FTI CEO and chairman of the board. "Through our Culture of Care efforts, we strive for a workplace where respectful and empathetic mental health conversations are normalized to support employees. These charitable partners are doing great work in our communities, and we're honored to support them and shine a light on all they do," he stated.

With organizational locations throughout the nation, FTI is also supporting the wide-scale assistance of those affected by the recent tornadoes that devastated communities in the Southeast. "With team members who were directly affected by the severe weather events in early December, we're thankful for organizations like the American Red Cross, who are providing vital services to that region," Jansen noted.

For more information on FTI and the services it provides, visit www.faithtechinc.com.