august 2022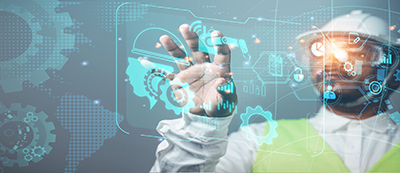 During the peak of COVID when building occupancy was low,
tenants were mostly working from home and visitors were absent, everything changed, including facility services behaviors. Staff worked more independently to maintain social distancing. They had less help from co-workers, but also less distractions, more time to focus, and fewer objects that could get in their way and cause injuries. Former building occupants and visitors didn't have to contend with crowded and changing common areas and workspaces.
Now, with people returning to facilities and social distancing no longer required, the world is changing once again and, in some cases, just as quickly. The safety behaviors they had learned are no longer second-hand nature or top-ofmind. And the people who are returning – often against their wishes – are used to being in a smaller and more controlled environment of their own making. So, they're less likely to be cognizant of their surroundings. To help prevent injuries and adapt to what's essentially a new environment, building occupants need to get reacquainted with smart safety behaviors and techniques.
Interacting without
getting distracted
Facility services staff have two main jobs: performing their tasks and keeping customers happy. Ideally, these should be done separately so each can have the worker's full attention.
During the last two years, when there were far fewer occupants
to satisfy, this was relatively easy to do. Custodial staff could, for example, mop up a spill without worrying that someone would race across the floor to get to the elevator. Engineers could change a light ballast or work above a dropped ceiling without occupants interrupting their work to report that the breakroom microwave isn't working. Successes came easier and faster without these distractions.
Today, engineers are far more likely to be approached while focusing on the task at hand. Because they've been taught to have a customer service mindset, their instinct may be to address the customer's concerns right away. In the interest of time, they may carry on a conversation while still on a ladder or turning a wrench on a sink.
Humans aren't designed to multi-task in this way. In fact, one
study found that just 2.5 percent of people effectively multi-task. When the brain bounces back and forth between tasks that require active attention, people are more likely to make mistakes. Some of these mistakes will mean they need to repeat what they were trying to do, losing time and efficiencies. Others will cause injuries – like falling off ladders, dropping heavy loads, or tripping over something they didn't see.
Minimizing injuries from repetitive motions
When workers are injured on the job, it's often from acute trauma – a single incident. Those are easy to identify and, hopefully, easier to mitigate in the future. However, injuries are also caused by cumulative trauma disorder (CTD). They happen over time due to hundreds or even thousands of repetitive movements that, in isolation, would not cause injury. Movements such as bending down to pick up trash, pulling equipment from storage lockers, and working in awkward positions can cause injuries over time. Full story »
today's News
WASHINGTON, D.C. -- The U.S. Chemical Safety Board (CSB) is releasing a new safety training application focused on agency findings from the devastating 2005 BP Texas City explosion and fire and how they relate to OSHA's Process Safety Management (PSM) standard.
GAITHERSBURG, MD -- The SFPE Foundation, a charitable organization focused on enhancing the scientific understanding of fire and its interaction with the natural and built environment, announced the seven recipients of its 2022 awards.
WEST HILLS, CA -- Pharmavite LLC, makers of Nature Made vitamins and a pioneer in the health and wellness industry, announced it has been named a Gold Stevie Award Winner for Workplace Health and Wellbeing in the seventh annual Stevie Awards for Great Employers.
PARK RIDGE, IL -- Working at height is inherently hazardous, exposing workers to significant risks that range from falls from roofs, scaffolding and ladders to slips through floor and roof openings. And the lack of use of personal protective equipment – and its misuse at times – greatly increases those risks.
FALLS CHURCH, VA -- AIHA will host a free workshop, "The Many Aspects of Occupational Risk Assessment: Understanding Differing Approaches and Goals," from 1–3 p.m. EST on August 25, 2022.