February 2021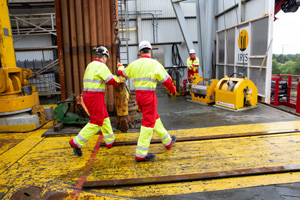 We all know the importance of electrical safety practices. Unfortunately, we're not all practicing them. According to a
Fluke survey conducted in 2020, 99.4 percent of electrical workers agreed that a strong culture of safety in the workplace
is important to keep workers safe. However, less than half felt that most companies have a strong culture of safety and
more than half of workers surveyed believed someone other than themselves to be responsible for their safety.
According to The Occupational Safety and Health Administration (OSHA), 8.5 percent of the 779 worker fatalities in the private industry in 2018 were caused by electrocution. Training in test equipment usage, using a procedural checklist, and performing safety audits are the best methods to ensure that safety practices are implemented.
Ensure workers are qualified for the specified work
The most effective method to ensure safety, and also the method required by OSHA, is for employees to demonstrate
their ability to select, inspect, use, and maintain their test equipment. The National Fire Protection Association (NFPA)
develops the Standard for Electrical Safety in the Workplace, known as NFPA 70E. This states that only "qualified persons''
are allowed to perform tasks that include the use of test equipment on systems 50 volts and greater.
Use the correct tools
Tools are rated for voltage and current, CAT and safety to determine whether they are suitable for the task at hand. It's important that technicians can identify the correct CAT rating needed for their job. In addition, technicians should never assume any test tool is operating correctly when it comes to safety.
Hygiene has never been more important—it's also never been more scrutinized. The pandemic has forced manufacturing facilities to heighten their focus on cleaning and hygiene protocols and has introduced new protocols for manufacturing employees.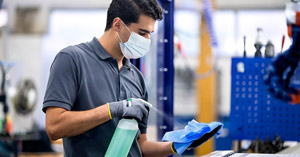 Daily News
PARK RIDGE, IL -- The American Society of Safety Professionals (ASSP) is working through a big addition to its Safety 2021 Professional Development Conference and Exposition that would enable thousands of attendees to get involved like never before.
THE WOODLANDS, TX -- Global Shop Solutions, a developer of enterprise resource planning (ERP) software, is celebrating its 45th anniversary this year.
QUINCY, MA -- Firefighting puts intense strain on firefighters, both physically and mentally. It is critical that firefighters receive a comprehensive rehab program after fire incidents or intense training to ensure their physiological and psychological well-being.
ROCKFORD, IL -- Rockford Systems LLC, dba Rockford Combustion Solutions, announced the appointment of Sunray Supply, Inc. as its exclusive sales representative agency servicing the Southeastern United States.
ST. PAUL, MN -- 3M is helping businesses return to work. The company is launching the 3M Clean & Protect Certified Badge Program, a new comprehensive system for cleaning, monitoring and protecting facilities.