November 2021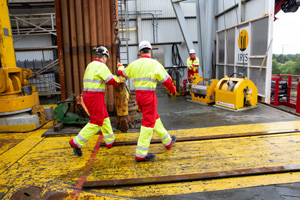 Nail guns are powerful, easy to operate, and boost productivity for nailing tasks. They are also responsible for an estimated
37,000 emergency room visits each year. Severe nail gun injuries have led to construction worker deaths. Nail gun injuries are common in residential construction. About two-thirds of these injuries occur in framing and sheathing work. Injuries also often occur in roofing and exterior siding and finishing.
Nail gun safety starts with understanding the various trigger mechanisms. Here is what you need to know:
How triggers differ
All nailers rely on two basic controls: a finger trigger and a contact safety tip located on the nose of the gun. Trigger
mechanisms can vary based on: 1) the order in which the controls are activated, and 2) whether the trigger can be held in the squeezed position to discharge multiple nails OR if it must be released and then squeezed again for each individual nail. Combining these variations gives four kinds of triggers. Some nail guns have a selective trigger switch which allows the user to choose among two or more trigger systems. Each trigger type is described below along with a summary of how the controls are activated.
Full Sequential trigger
This is the safest type of nail gun trigger. This trigger will only fire a nail when the controls are activated in a certain order.
First, the safety contact tip must be pushed into the work piece, then the user squeezes the trigger to discharge a nail. Both the safety contact tip and the trigger must be released and activated again to fire a second nail. Nails cannot be bump fired. Also known as single-shot trigger, restrictive trigger, or trigger fire mode. Full story »
spotlight
Hygiene has never been more important—it's also never been more scrutinized. The pandemic has forced manufacturing facilities to heighten their focus on cleaning and hygiene protocols and has introduced new protocols for manufacturing employees.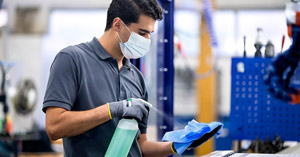 While health and safety have always been top of mind in manufacturing facilities, hand and surface hygiene have become a required part of maintaining employee wellbeing. Since March, facility managers have been tasked with preparing environments to secure this new hygiene standard.
To read this article in its entirety, click here»
today's News
NORTHBROOK, IL -- UL, the global safety science leader, announced  that it is among approximately 80 organizations comprising the International Fire Safety Standards (IFSS) Coalition that contributed to the recently-released Global Plan for a Decade of Action for Fire Safety.
SPRINGDALE, AR. -- Rockline Industries announced that the Arkansas Department of Labor has recognized its Springdale, Arkansas campus with an award for exceptional safety, achieving 14 million safe work hours without a lost time accident (LTA) on Aug. 17, 2021.
WASHINGTON, DC -- A new online portal for submitting applications to the U.S. Department of Labor Occupational Safety and Health Administration's Voluntary Protection Programs is now available.
WASHINGTON, DC – With the National Retail Federation expecting retailers to hire more than 500,000 seasonal workers and employers hopeful for a busy holiday season, the U.S. Department of Labor reminds them not to overlook their worker's rights to a safe and healthy workplace and to be paid all of their legally earned wages.

WASHINGTON, DC -- The Vinyl Institute (VI), announced recipients of its annual health, safety, and environmental awards, which are given to companies in the vinyl industry for safeguarding workers and protecting the environment at manufacturing facilities throughout the United States and Canada. This year, VI recognized 36 facilities with 53 awards for outstanding performance.