december 2023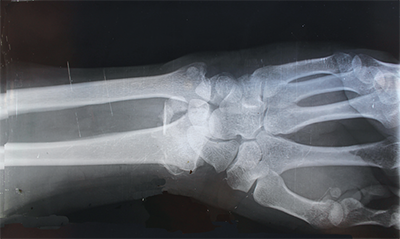 When the first aid kit was originally released by Johnson and Johnson in 1888, no one would have thought that emergency
care at the site of the injury could include portable X-ray technology. At the time, the first radiographic image was still seven years away from being taken. Even as the X-ray brought new insight into diagnostics and treatment, the cost and size of the equipment largely limited these systems to hospitals. This was inconvenient for a number of reasons, particularly when diagnostic images were required for injured workers in remote sites.
Today, however, new technological innovations have made X-ray technology much more accessible. Portable units,
some even battery-powered for use in spaces without access to electricity, are now available to bring the radiographic
imaging capabilities of the hospital directly to you. Healthcare at all levels continues to evolve, and facilities now have more opportunities than ever to provide the care employees need without ever having to leave the premises.
Now, access to this diagnostic technology is not just easy, it's also important. The Bureau of Labor Statistics maps injury
cases from 2017 to 2021, with 2.8 injuries per 100 full-time workers in 2017 and 2.7 in 2021, an improvement that can
largely be attributed to facility safety efforts. However, it still leaves 2.6 million people with workplace injuries and illnesses,
the majority of which resulted in time away from work, job restriction or transfer. With the persistent prevalence
of injuries in workplaces, bringing in resources such as a portable X-ray system can be a dramatic boost to diagnostics that can reduce lost time from work while augmenting overall employee safety efforts.
These three considerations can help determine whether adding portable X-ray capabilities is right for your organization.
Types of Injuries
The first factor to explore when considering adding a portable imaging system is the common hazards your employees face from the work they do and the injuries that happen as a result.
According to the National Safety Council (NSC), prior to the COVID-19 pandemic putting exposure to the COVID virus in the lead in 2020, the two most common causes of illnesses or injuries resulting in time away from work were overexertion
and falls, slips or trips. If this trend proves to be true in your workplace, you have undoubtedly seen your fair share of
resulting fractures, dislocations and sprains, which are impossible to properly diagnose and treat without taking radiographic images. These injuries can also result from transportation incidents and contact with objects and equipment, the other two causes in the NSC's top five2. When a break or dislocation is suspected, radiographic imaging can be highly beneficial to determine if and how the inhouse medical staff can treat the injury or if a trip to the hospital is required.
On-site X-ray capabilities can also provide valuable information when an injury is more serious. Some workplaces are undeniably more dangerous than others, and unfortunately, severe or even life-threatening injuries can happen. Full story »
today's News
WASHINGTON, DC – The U.S. Environmental Protection Agency's (EPA) ENERGY STAR program celebrates over 25 years of achievements in lighting efficiency. Since the ENERGY STAR label for lighting and lightbulbs was first introduced in 1997 to improve market uptake of energy efficient lighting, well over 3 billion ENERGY STAR certified light bulbs have been sold in the United States.

MCCONNELLSBURG, PA -- JLG Industries, Inc., an Oshkosh company and manufacturer of mobile elevating work platforms (MEWPs) and telehandlers, has opened a 30,000-square-foot Las Vegas Service Center to service equipment rentals and owned machines in the western U.S.

LIVERPOOL, UK -- LiftEx 2023, sponsored by CoreRFID, attracted the crowds to the Exhibition Centre located among the vibrant docks on the banks of the Mersey in Liverpool on 21-22nd November. Over 1000 visitors across two days came to see the lifting products and services from more than 80 global exhibitors.

WASHINGTON, DC -- The U.S. Chemical Safety and Hazard Investigation Board (CSB) released its final report into the deadly explosions and fires at the Didion Milling, Inc. (Didion) dry corn milling facility in Cambria, Wisconsin.

TAMPERE, FI -- A team of researchers from Tampere University, Finland, and the International Commission on Occupational Health (ICOH) in Italy have published an overview of global estimates of work-related diseases and occupational injuries.