september 2021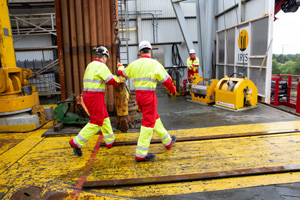 In order to maintain the highest level of insulating protection and ensure long life, it is essential that electrical safety gloves
(and sleeves) are properly cared for and stored. Before each use, gloves and sleeves should be inspected for holes, rips or tears, ozone, cutting or UV damage and signs of chemical deterioration. Refer to ASTM F 1236, standard guide for visual inspection of electrical protective rubber products for
additional information.
Gloves and sleeves should also be examined to determine if they show any damage as a result of chemical contamination, particularly from petroleum products. The first sign of exposure is swelling in the area of contamination. Should any
rubber equipment be exposed to chemical contaminants or be suspect of any other physical damage, it should be turned in
for inspection, cleaning and electrical testing.
The Occupational Safety and Health Administration 29CFR 1910.137 paragraph (b)(2)(ii) requires insulating equipment
to be visually inspected before use each day and immediately after any incident which might be suspected of causing damage.
The ASTM Standard Specification for Rubber Insulating Gloves states that "Gloves shall be free on both inner and outer surface of harmful irregularities that can be detected through testing and inspection." Harmful irregularities are defined as any feature that disrupts the uniform, smooth surface contour and represents a potential hazard to the user, such as pinholes, cracks, blisters, cuts, conductive embedded foreign matter, creases, pinch marks, voids (entrapped air), prominent ripples, and mold marks. In addition, the OSHA Standard 29CFR1910.137 states that rubber gloves must be subjected to an air test along with the inspection. Full story »
spotlight
Hygiene has never been more important—it's also never been more scrutinized. The pandemic has forced manufacturing facilities to heighten their focus on cleaning and hygiene protocols and has introduced new protocols for manufacturing employees.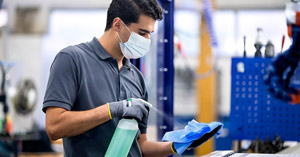 While health and safety have always been top of mind in manufacturing facilities, hand and surface hygiene have become a required part of maintaining employee wellbeing. Since March, facility managers have been tasked with preparing environments to secure this new hygiene standard.
To read this article in its entirety, click here»
today's News
PHOENIX -- On the heels of the Biden administration's announcement advising workplaces to encourage employee vaccinations, a comprehensive business survey conducted by Arizona State University's College of Health Solutions, with support from The Rockefeller Foundation, found that 93 percent of the 1,143 U.S. employers surveyed in August currently require or encourage employee vaccinations.
WASHINGTON, DC -- The National Institute for Occupational Safety and Health (NIOSH) has funded 10 Centers of Excellence for Total Worker Health. Four new Centers of Excellence in California, Maryland, North Carolina, and Utah will join six existing Centers in Colorado, Connecticut, Illinois, Iowa, Massachusetts, and Oregon.
DALLAS -- The U.S. Department of Labor's Occupational Safety and Health Administration urges response crews and residents in areas affected by Hurricane Nicholas to recognize the hazards created by flooding, power loss, structural damage, fallen trees and storm debris.
LOUISVILLE, KY -- Charah Solutions, Inc., provider of mission-critical environmental services and byproduct sales to the power generation industry, announced that it has received a total of seven prestigious safety awards from the North Carolina Department of Labor (NCDOL) for an outstanding record of employee safety in 2020.
FALLS CHURCH, VA – AIHA announced revisions to its complete library of its Back to Work Safely (BTWS) guidelines. The new edition includes multiple updates.