may 2021
Premium Inspection & Testing (PIT) conducted a first-of-its-kind internal coke drum inspection at an oil refinery using a
combination of drone technology and manned rope access. Inspection experts from PIT were recently asked to conduct
an internal inspection of a coke drum at an oil refinery in Texas without using scaffolding.
Scaffolding is typically constructed for inspectors to stand on so that they can see the areas they are inspecting up close. Because scaffolding is expensive and timeconsuming to put up and take down, personnel at the refinery were hoping to avoid using it.
Inspectors from PIT proposed using a method that had never been tried before for this kind of inspection: a combination
of drone technology and manned rope access within the coke drum. Rope access originated in the 1980s to address maintenance challenges in the offshore oil and gas industry. This alternative access was a game changer, so much so that rope access was adopted for traditional and advanced NDT methods and light maintenance work.
"Premium has years of experience performing inspections via rope access, having clocked a total of 2.2 million safe hours on ropes with zero accidents," says Danny Landry, Premium's VP of Business Development & Marketing. "We also have deep experience using drones to collect visual data for inspections, so we were excited to agree to take on the job without building scaffolding."
spotlight
Hygiene has never been more important—it's also never been more scrutinized. The pandemic has forced manufacturing facilities to heighten their focus on cleaning and hygiene protocols and has introduced new protocols for manufacturing employees.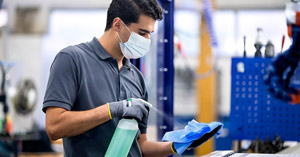 While health and safety have always been top of mind in manufacturing facilities, hand and surface hygiene have become a required part of maintaining employee wellbeing. Since March, facility managers have been tasked with preparing environments to secure this new hygiene standard.
To read this article in its entirety, click here»
today's News
FALLS CHURCH, VA -- AIHA announced new guidelines for developing health metrics in workplaces. The leading health metrics guidelines are designed to prevent workplace illness and injury, with an overarching goal for workers to return home as healthy as when they came to work.

WESTLAKE, OH -- OxyGo LLC, lightweight portable oxygen concentrators manufacturer, has acquired LIFE ® Corporation, a manufacturer of medical devices that specializes in portable Emergency Oxygen and CPR administration equipment.

PARK RIDGE, IL -- Morgan Bliss, professor in the occupational safety and health field and member of the American Society of Safety Professionals (ASSP) for 11 years, is ASSP's 2021 William E. Tarrants Outstanding Safety Educator.

MCCONNELLSBURG, PA -- JLG Industries, Inc., announced parent company Oshkosh Corporation has recently received several prestigious industry awards for the Company's ongoing ethical business practices, sustainability efforts and use of emerging and advancing digital technologies.

FALLS CHURCH, VA -- AIHA announced investor and entrepreneur Mark Cuban as the recipient of the inaugural Workplace Health Public Influencer Award, citing Cuban's assistance in promoting AIHA's Back to Work Safely initiative.