july 2021
Hazmat transportation is a process that involves people performing functions related to handling, packaging, storing, moving,
loading and unloading of hazmat, and responding to emergency situations while such materials are in transportation.
It includes employees responsible for the safe transportation of hazmat. The process also incorporates functions to design, manufacture, fabricate, inspect, mark, maintain, recondition, repair, or test a package, container or packaging component used in transporting hazmat. With such a complex process, the U.S. Department of Transportation (DOT) has identified human error as a contributing cause for most hazmat transportation incidents.
Human error may result from a variety of factors including:
• Lack of knowledge leading to the mishandling of hazmat;
• Lack of knowledge leading to undeclared shipments;
• Lack of awareness that hazmat is present;
• Failure to follow established safety procedures;
• Lack of understanding of one's role during an incident should one occur;
• Lack of knowledge on how to respond to an incident should one occur.
Hazmat incidents caused by human error can be reduced through the implementation of an effective training program. An effective training program is a systematic method for providing training, which includes tests and quizzes. It may consist of materials such as handouts, overheads, videos, and exercises, as well as interactive computer-based training, tests and quizzes and, where there is an instructor, the instructor's notes or course outline. The training program may be a tutored or self-study course. The training provider may be the hazmat employer or an independent training provider.
An effective training program:
• Develops a strong safety culture;
• Heightens employee safety by helping employees protect themselves;
Full story »
spotlight
Hygiene has never been more important—it's also never been more scrutinized. The pandemic has forced manufacturing facilities to heighten their focus on cleaning and hygiene protocols and has introduced new protocols for manufacturing employees.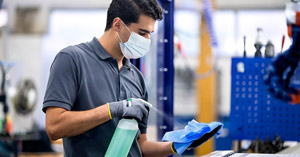 While health and safety have always been top of mind in manufacturing facilities, hand and surface hygiene have become a required part of maintaining employee wellbeing. Since March, facility managers have been tasked with preparing environments to secure this new hygiene standard.
To read this article in its entirety, click here»
today's News
LOS ANGELES -- Leaders of workplace safety organizations said they welcome new guidance from the US Occupational Safety and Health Administration (OSHA) to improve communications with surviving family members when the agency investigates workplace fatalities.
WASHINGTON, DC -- July 26th marks the 31st anniversary of the Americans with Disabilities Act (ADA). The Office of Federal Contract Compliance Programs (OFCCP) states it is proud to be working to ensure the inclusion of individuals with disabilities by federal contractors in all aspects of employment, including equal opportunity and non-discrimination in hiring, compensation, and promotions.
WASHINGTON, DC -- The American National Standards Institute (ANSI) has announced that all meetings and conferences hosted by ANSI, the ANSI National Accreditation Board (ANAB), and Workcred will be held virtually through October 31, 2021.
PARK RIDGE, IL -- The American Society of Safety Professionals (ASSP) has named Kathy A. Seabrook, CSP, CFIOSH, FASSP, EurOSHM, the recipient of the 2021 Thomas F. Bresnahan Standards Medal for her valuable work in developing and advocating occupational health and safety (OHS) standards.
ROMEOVILLE, IL -- The Loyola University Chicago Family Business Center and their sponsors BMO Harris and Katten recognize 12 family businesses, including Magid Glove and Safety, for their heroic contribution to safe jobs, meeting customer demands, and keeping employees safe throughout the pandemic.