january 2023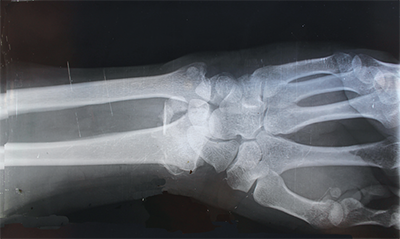 Commercial property managers are responsible for keeping
tenants happy and safe, which includes performing proactive
maintenance to prevent potential slip and fall injuries in high
traffic areas, stairwells, and loading docks. Failing to do so
can lead to litigation, higher tenant turnover and lower lease
rates.

Unfortunately, anti-slip coatings used to increase traction
on slick or slippery surfaces are a veritable grab bag of options.
Some are designed to be applied only to specific substrates.
Others require extensive surface prep to remove existing coatings and sealants. Many shrink after drying, do not adhere well, or quickly lose embedded aggregate required to improve traction.

This can leave commercial property management firms and
the painting contractors they employ unclear on the best antislip coatings to apply. Ideally, the formulation could be applied to a wide range of substrates, resist shrinking and retain aggregate to improve traction and endure many years of wear. Given the large square footage and number of stairs involved in many projects at commercial properties, the time to complete any prep work and apply the coating should be minimized to keep costs down.
This was precisely the challenge commercial coatings contractor Roger Williams, owner of Youngsville, NC-based Williams Painting Service, faced when he was contacted by Kane Realty Corporation, a Raleigh-based real estate development company that has managed more than 6 million square feet of mix-used space since 1978.

The property management firm wanted to embark on a project
to improve the safety of four exterior parking deck stairwells
at one of its signature properties. The stairwells run seven stories, with approximately 130 treads per stairwell. Because one of the stairwells is near an outdoor workout area, CrossFit enthusiasts regularly run up and down the concrete steps daily.

"We first had to determine what coating to use to improve traction on the stairs, which get slick when wet," said Williams.
He notes that the interior corner stairwells were under cover but exposed to the elements via large windowless openings on some of the walls. As a result, rain, humidity, and even perspiration from the fitness enthusiasts made safely navigating the concrete steps more difficult.

However, finding a safe, durable anti-slip solution for the application was a challenge, and several products he tested were inadequate. Full story »
today's News
BRECKENRIDGE, CO -- The owner of a Vail construction company facing felony manslaughter charges has surrendered to local law enforcement after the Summit County Sheriff's Office in Breckenridge, Colorado, issued an arrest warrant on Jan. 24, 2023, related to the findings of a federal safety investigation into a deadly trench collapse in November 2021.

AUSTIN, TX -- Ambiq announced that, for the second time, it has been selected as the winner of the "IoT Semiconductor Company of the Year" award in the seventh annual IoT Breakthrough Awards program.

LONDON -- Powered by the Lifting Equipment Engineers Association (LEEA) and supporting organizations, it is now a widely celebrated day where manufacturers, suppliers, and end users are among those sharing material that promotes safe and high quality load lifting.

GAITHERSBURG, MD -- The SFPE Foundation announced the funding of research into integration of Building Information Modeling (BIM) for the design, verification, and maintenance of proper fire protection systems in buildings.

WASHINGTON D.C. -- The U.S. Chemical Safety and Hazard Investigation Board (CSB) released its Public Business Meeting Schedule for FY 2023.