january 2021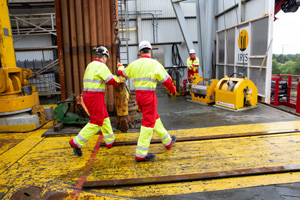 Workplace noise affects the human body in various ways.
The most well-known is hearing loss but work in a noisy environment also can have other effects.
Although noise-induced hearing loss is one of the most common occupational illnesses, it is often ignored because there are no visible effects. It usually develops over a long period of time, and, except in very rare cases, there is no pain. What does occur is a progressive loss of communication, socialization, and responsiveness to the environment. In its early stages (when hearing loss is above 2,000 Hz), it affects the ability to understand or discriminate speech. As it progresses to the lower frequencies, it begins to affect the ability to hear sounds in general.
The primary effects of workplace noise exposure include noiseinduced temporary threshold shift, noise-induced permanent threshold shift, acoustic trauma, and tinnitus. A noise-induced temporary threshold shift is a short-term decrease in hearing sensitivity that displays as a downward shift in the audiogram output.
It returns to the pre-exposed level in a matter of hours or days,
assuming there is not continued exposure to excessive noise.
If noise exposure continues, the shift can become a noise-induced permanent threshold shift, which is a decrease in hearing sensitivity that is not expected to improve over time. A standard threshold shift is a change in hearing thresholds of an average of 10 dB or more at 2,000, 3,000, and 4,000 Hz in either ear when compared to a baseline audiogram.
Latest Video
Daily News
NEW YORK -- KINETIC, wearable technology provider, announced with the publication of a new eBook that organizations that have deployed its wearable technology have improved contact tracing processes and reduced both close contacts and the spread of Covid-19 among their industrial workforce.
FALLS CHURCH, VA -- The American Industrial Hygiene Foundation (AIHF) announced it is accepting scholarship applications for the 2021 academic year.
ITASCA, IL -- The National Safety Council said they are discouraged, though unsurprised, by the data released Wednesday by the National Highway Traffic Safety Administration for the first nine months of 2020.
WASHINGTON, DC -- The U.S. Department of Labor has announced adjustments to Occupational Safety and Health Administration (OSHA) civil penalty amounts based on cost-of-living adjustments for 2021.
FALLS CHURCH, VA -- The American Industrial Hygiene Association announced their new webinar line-up that includes COVID-19 in the workplace.