april 2021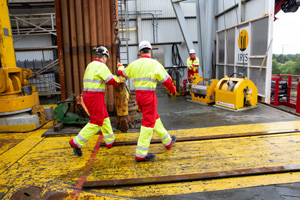 As we get ready for summer, safety professionals need to prepare for the risks associated with the season. Warmer months mean a higher risk of heat stress, especially for employees who are regularly exposed to hot surroundings. Having proper personal protective equipment (PPE) that
factors in weather and hot environments can reduce the frequency and severity of heat-related injuries on the jobsite.
If all or part of your workforce faces hot conditions – such as those who work construction, agriculture, landscaping, oil
and gas, or even package delivery, having a well-thought-out strategy and a thorough, experienced PPE partner at your
side can help mitigate the risk of heat-related injuries.
And the risk is very real. According to the U.S. Department of Labor Occupational Safety and Health Administration, millions of U.S. workers are exposed to heat in their workplaces and every year thousands become sick from occupational heat exposure, which can even lead to death.1
Illnesses caused by heat stress can include heat stroke, when the body's temperature regulation fails and body temperature rises to critical levels; heat exhaustion, resulting in fainting or heat collapse; and heat cramps from an electrolyte imbalance caused by sweating. Since these heat-related conditions can physically and mentally impair the worker, they often increase the risk of other injuries.
PPE for Hot Environments
When outfitting workers for hot environments, there are several factors a safety professional should look for in PPE to ensure their workers stay safe and comfortable on the job.
Advanced Cooling Technology: Recent advancements in how products are constructed allow products to help move heat
away from the body.
spotlight
Hygiene has never been more important—it's also never been more scrutinized. The pandemic has forced manufacturing facilities to heighten their focus on cleaning and hygiene protocols and has introduced new protocols for manufacturing employees.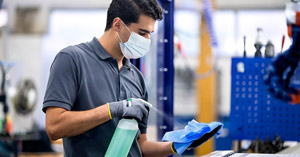 While health and safety have always been top of mind in manufacturing facilities, hand and surface hygiene have become a required part of maintaining employee wellbeing. Since March, facility managers have been tasked with preparing environments to secure this new hygiene standard.
today's News
QUINCY, MA -- The National Fire Protection Association (NFPA) is celebrating its 125th anniversary this year and plans to commemorate the momentous milestone through a series of events and initiatives that reflect the steadfast commitment to fire, electrical, and life safety by the Association.

FALLS CHURCH, VA -- The U.S. House of Representatives passed the Workplace Violence for Health Care and Social Service Workers Act, which is a key step towards providing health care and social workers with the workplace protections they desperately need.

WASHINGTON, DC -- The U.S. Department of Labor's Occupational Safety and Health Administration has extended the comment period for the proposed rule to update the agency's Hazard Communication Standard (HCS) to May 19, 2021.

BOSTON -- The owner of a Lynn, Massachusetts, tax preparation service faces $136,532 in penalties for prohibiting her employees and customers from wearing masks, failing to ensure employees and customers practiced social distancing, and refusing to implement other safeguards against the coronavirus.

HAMILTON, ON -- April 28, 2021 is the National Day of Mourning and workplaces across Canada will use this day to remember those who have lost their lives or suffered an injury or illness due to their work.