september 2020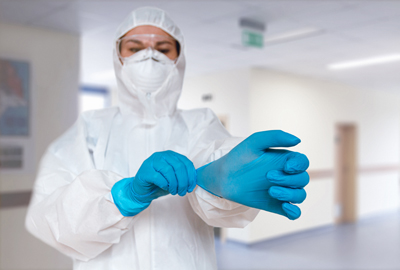 Facility safety managers already faced a complex and ever-changing landscape of potential emergencies and disasters to prepare for before the coronavirus pandemic hit. Today, managers and professionals are re-writing the playbook – if there even was a playbook – to protect workers, facility occupants and even consumers from COVID-19 health risks.
The challenges are multi-faceted for manufacturing, healthcare, food processing, government and other facilities that must determine a way to operate safely, and whose frontline workers deliver essential services and good to the public. A key area of focus is Personal Protective Equipment (PPE) usage for skin protection, and The U.S. Department of Labor's Occupational Safety and Health Administration (OSHA) has provided guidance on wearing gloves, eye/face protection and other PPE.
With regards to gloves, best practices are being matched with innovation to create, for example, higher performance single-
use, nitrile gloves that protect workers against COVID-19, their coworkers and other skin dangers. For facility safety managers, gaining a better understanding of glove requirements, variations in glove protection and developments in innovation when it comes to the environmental impact of disposable gloves can enhance worker safety.
In 2016, the International Organization for Standardization revamped its international testing standards for protective gloves against dangerous chemicals and microorganisms, including viruses, bacteria and funguses.
Latest Video
The OSHA Inspection Process
Daily News
NEW YORK -- Kenzen recently launched a physiological monitoring system to keep workers safe from heat, overexertion, and illness, has debuted a new privacy policy for its system that is precedent-setting in the data collection industry.
PARK RIDGE, IL -- The American Society of Safety Professionals (ASSP) opened registration today for its live virtual SafetyFOCUS 2021 event. The 10-day immersive education experience will take place Feb. 8-12 and 15-19.
NEW ORLEANS -- Bureau of Safety and Environmental Enforcement (BSEE) has activated the Hurricane Response Team as Tropical Storm Zeta makes its way towards the Gulf of Mexico.
FALLS CHURCH, VA -- AIHA announced the virtual premiere of this year's Mark of Excellence ceremony, celebrating the recipients of the 2020 AIHA Named Awards, will be held on November 5-6, 2020.
ITASCA, IL -- Those who have enabled the easy distribution of prescription opioids should be held accountable, which happened Oct. 21 when the Department of Justice reached a settlement with Purdue Pharma for $8 billion.