June 2021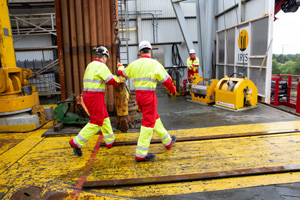 Most of us have heard the adage about how machinery doesn't discriminate between product and people – it will do the
same to both. Many people discover this through unfortunate means: an injured machine operator sharing the details of his
or her accident or a family member reflecting on the circumstances that took a loved one.
Machines with moving parts and workers who operate them have an uneasy relationship. Machines make workers more
productive and enable them to form and shape material in ways that would be impossible with hand tools. Technology can make machines safer, but as long as workers need machines to help them process material – to cut, shear, punch, bend, or drill – they will be exposed to moving parts that could harm them. Much of the danger occurs at the point of operation,where the work is performed and where the machine cuts, shears, punches, bends, or drills.
A hierarchical approach is recommended when first approaching the safeguarding of a machine or operation. Safeguarding principles should be based on preventing access during dangerous motion or preventing dangerous motion during access.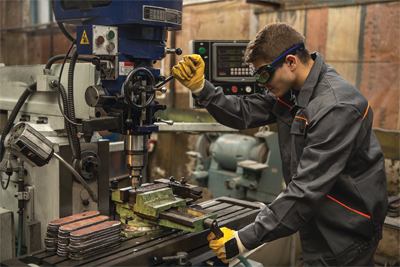 spotlight
Hygiene has never been more important—it's also never been more scrutinized. The pandemic has forced manufacturing facilities to heighten their focus on cleaning and hygiene protocols and has introduced new protocols for manufacturing employees.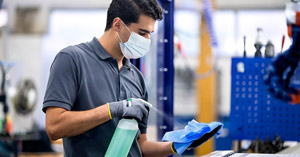 While health and safety have always been top of mind in manufacturing facilities, hand and surface hygiene have become a required part of maintaining employee wellbeing. Since March, facility managers have been tasked with preparing environments to secure this new hygiene standard.
To read this article in its entirety, click here»
today's News
PARK RIDGE, IL -- The American Society of Safety Professionals (ASSP) reminds potential attendees the "super early rate" for its Safety 2021 Professional Development Conference and Exposition ends Friday, June 25. Now is the time to secure the lowest rate for the dynamic learning and networking event held Sept. 13-15 in Austin, Texas.

WASHINGTON, D.C. -- NATE: The Communications Infrastructure Contractors Association announced UAS Committee Chairman Bryan McKernan, Chief Revenue Officer at Consortiq in Annapolis, Maryland, has been selected to represent the Association on the Federal Aviation Administration Unmanned Aerial Systems (UAS) Beyond Visual Line-of-Sight (BVLOS) Aviation Rulemaking Committee (ARC).

EMMITSBURG, MD -- The National Fire Protection Association (NFPA) recently released a new standard, NFPA 1802: Standard on Two-Way, Portable RF Voice Communications Devices for Use by Emergency Services Personnel in the Hazard Zone.

AUSTIN, TEXAS -- ESO, data and software company serving emergency medical services (EMS), fire departments, hospitals, and state EMS/Trauma offices, announced Dr. Remle Crowe, senior manager of Research at ESO, received the Outstanding Research and Contributions to the Science of EMS award at the EMS State of the Science: XXII Gathering of Eagles conference.

SAN BERNARDINO, CA -- Cal/OSHA is reminding all employers to protect outdoor workers from heat illness as excessive heat watches have been issued throughout California. Employers in California must take steps to protect outdoor workers from heat illness by providing water, rest, shade and training.